Tokyo Fashion Week Day 3: Paralympic Models Steal the Show
Can you believe it's already day three? Tokyo Fashion Week is flying by, and I've barely had time to wrap my head around it. After forgetting my
charger yesterday
, I double and triple checked to make sure that I had everything I needed for the busy day ahead. For those of you who have been asking, my essentials for surviving fashion week are as follows: chargers of all varieties, pocket wifi to write on the go, equal parts water and coffee, and waterproof black eyeliner.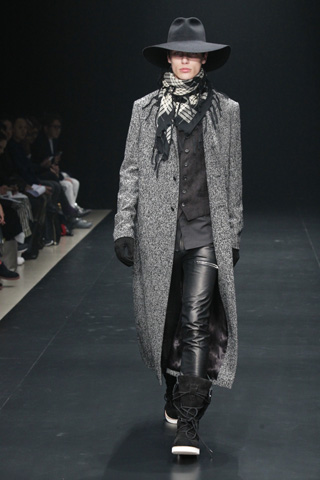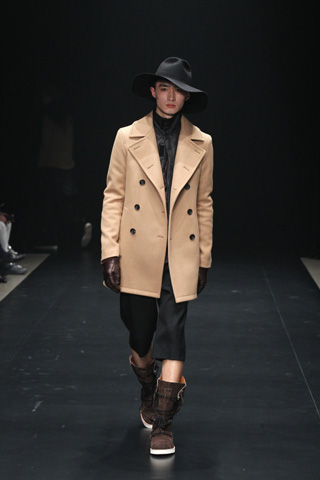 Photos courtesy of Mercedes-Benz Tokyo Fashion Week
The
menswear takeover
of fashion week continued on
Ato
's runway––the first show of the day. Ato, designed by
Ato Matsumoto
, is an international label that was first established back in '93. Named one of the '50 Greatest Japanese Brands of All Time' by
Complex
and coveted by Kanye West, Ato is one of the most sought after menswear brands, and one of the industry's best kept secrets.
The marriage of high fashion with urban street style was apparent in the leather trousers, double zip hoodies, and Ato's signature sneakers that ranged from low top to midcalf. Floppy hats, funnel necks, and long black trenchcoats have been a fall staple for the last two years, but were given an update with Ato's play on proportions. Even though this collection was strictly menswear, I wouldn't mind having all of these pieces in my own wardrobe.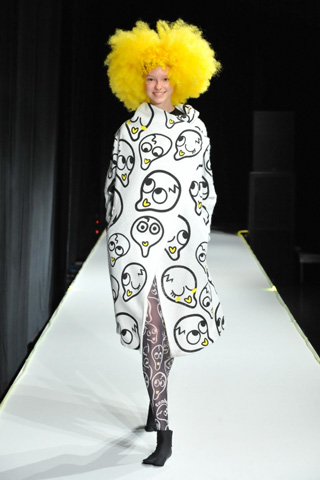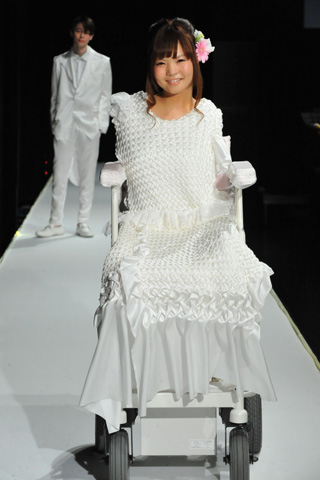 Photos courtesy of Mercedes-Benz Tokyo Fashion Week
Next stop
Tenbo
. All feel good vibes, bright colors, and giant wigs––basically everything that those who were disappointed by the "normal" clothes shown during the week wanted to see. While Tenbo's clothing was showstopping, the real runway standouts were the models.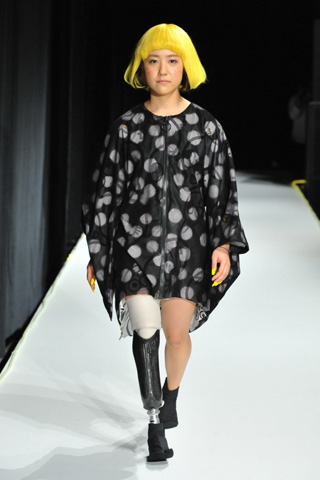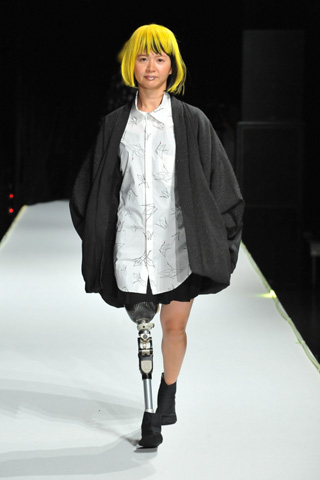 Photos courtesy of Mercedes-Benz Tokyo Fashion Week
Tenbo gave everyone a break from the stick-thin, serious modeling world and sent out models of all shapes, sizes, and backgrounds; and all with real smiles to match. Among the diverse cast of models was a model in a wheelchair, a blind model, and paralympic athletes-turned-models with prosthetic limbs. After Tokyo Fashion Week
came under fire for its painfully obvious lack of diversity
earlier this week, Tenbo's runway was a very welcome change. Definitely one of my favorite shows of the season.
I have a million emails and phone calls to return, so I'm keeping today's post short. Check back tomorrow for more from Tokyo Fashion Week and be sure to follow @
FashionOneTelevision
on Instagram for real time runway coverage xo