What-to-Wear: '90s Party
Earlier this week my friend invited me to a '90s themed soiree—and by soiree I mean a '90s-themed hip hop party at one of the largest underground (yes, literally underground) clubs in Tokyo.
Needless to say, I immediately did a mental scan of my closet. For those of you who don't know, attending a party in Tokyo is no small feat. Surrounded by club kids, kawaii girls and everyone in between, it always seems better to be overdressed...and somehow I'm still always the most underdressed. So, in preparation for the upcoming soiree, this week's "What to wear?" question is all about how to be ~tastefully~ '90s, while still standing out of the crowd. The '90s are making a comeback dude, and here's how.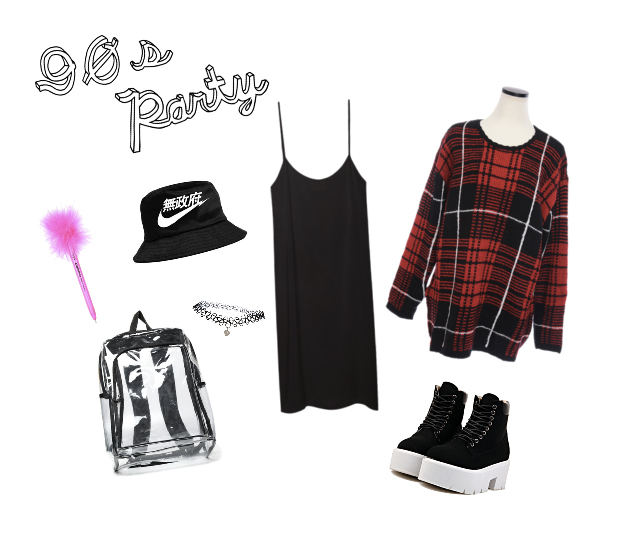 1. Flannel
A little Cobain and a little
Twin Peaks
, flannel was definitely a ubiquitous trend in the '90s. Though flannels have been revitalized by hipsters and other people with beards over the years, wearing a flannel buttondown still feels outdated to me. This mock "flannel" sweater nods to the '90s while still feeling on-trend and up-to-date. Wear oversized as a sweater dress to keep the look decade and nighttime appropriate. Buy
here
.
2. Bucket Hat
First made popular in the late '80s by LL Cool J, the bucket hat became one of the most defining accessories of the '90s and reemerged again early last year. So, why does this trend keep coming back? In addition to looking good on most anybody, the bucket hat's unpretentious nature conveys a certain anti-establishment attitude that was appropriate then and is still appropriate now. Donned by everyone from Ghostface Killah, Hunter S. Thompson, and Rihanna, it's safe to assume that wearers of the bucket hat could care less about what you think and are ready to party, hard. Find
here
.
3. Slip Dress
Rocked by '90s style icons like Winona Ryder and Liv Tyler and immortalized by cult films like
Clueless
and
The Craft
, the slip dress was a must-have in every '90s girl's closet. Slip dresses can be sexy or sweet depending on what they're worn with, but my personal preference is to wear them a little grunge-y. Layer under an oversized sweater, like the one above, for a look that Winona and Liv would both envy. This dress is available
here
.
4. Shoes
Whether it was a pair of Sketchers or New Balance, everyone in the '90s definitely had at least one pair of nondescript sneakers. Now before you go digging through your boxes of Beanie Babies and friendship bracelets, I'm going to veto Sketchers right now. This is one blast from the past that needs to stay buried in your closet––forever. Instead, try a pair of platform ankle boots that reference both '90s grunge and club kid culture. This particular pair can be found
here
.
5. Don't Forget!
A see-through vinyl backpack to hold your flip phone, a Clueless worthy pen to jot down numbers on boys' arms, and a tattoo choker to complete the look.
Taking inspiration from the '90s doesn't mean that you have to be cliché or over the top, so leave the
Rachel
haircut at home. Instead, opt for pieces that tastefully nod to the era and accessories that are nostalgic––in a good way.
Happy
Vogue
-ing!
Credit:
Polyvore