What-to-Wear: Day After New Year's
2015 is less than 48 hours away and while most of you are probably still trying to perfect your NYE outfit, I'm already thinking of what I'm going to wear after the party. Yes, that's right. I'm talking about the worst morning of my year, every year: January 1st.
Now before you start commenting WTF and WHY, let me paint you a picture. In my family, New Year's Day is always spent at my grandparents house eating brunch and exchanging well-wishes. While my family was generally sympathetic of my coming home on the 1st covered in glitter and smelling of alcohol during my university years, I'm now an adult (or at least doing my best to act like one). This means that I pay my own bills, do my own laundry, and that being visibly hungover from all-night debauchery during family brunch is no longer acceptable.
In the spirit of adulthood and starting the new year off right, this week's "What to wear?" question is for all of you New Year's partygoers that are still planning to make your ~adult~ engagements in the morning. Whether its a family get-together or a date with your friends, put your best foot forward in this Day After New Year's outfit.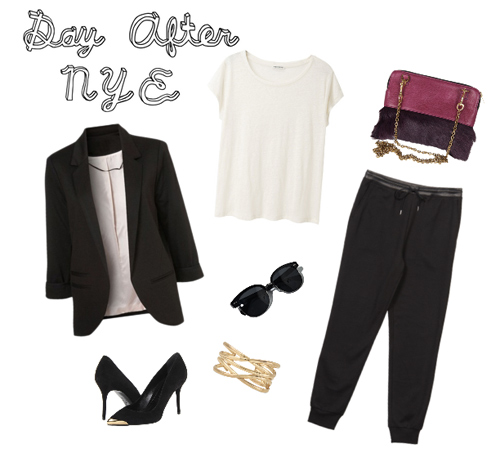 1. Fashion Sweats
First made fashionable by
Alexander Wang in 2009
, sweatpants are no longer banished to the realm of dorm rooms and dining halls. I used to take pride in never wearing sweatpants out in public, but that's quickly changed with the reemergence of fashion sweats. Maybe I'm maturing or maybe I'm turning over a new leaf but, whatever you want to call it, I can't think of anything better to wear to brunch after a long night spent ringing in the new year. The tailoring on these
T by Alexander Wang
sweats make this pair equal parts polished
and
comfy. Buy
here
.
2. Slouchy Shirt
If the runways have shown us anything this year, its that the rules of proportion no longer apply. Don't be afraid to pair a slouchy shirt with a slouchy pant. With the right accessories and styling, this look can be just as dressed up as a button down and trousers. This perfectly slouchy shirt by
ACNE
redefines dressing up by being dressed down. Buy
here
.
3. Relaxed Blazer
If you were worried that the sweatpants and t-shirt combo was bordering on too casual, don't worry. Throw on a relaxed, loose fit blazer to keep this look feeling refined rather than "just-rolled-out-of-bed"-- no matter how true the latter may be after New Year's. A relaxed blazer emphasizes the casual-cool of this look while still looking put together. In fact, you can even recycle your blazer
from the night before
. This blazer is by
Blackfive
and can be purchased
here
.
4. Pointed Heels
Pointed heels have an innate ability to dress up any look-- making them the perfect shoe to go with this outfit. Start your new year off on the right foot this year with
these
gold tipped pumps by
Alexander McQueen
.
5. Don't Forget!
A
vibrant clutch
to give this look a pop of color,
sunglasses
to hide from the unforgiving New Year's sun, and an
oversized gold cuff
to finish off the look.
Being a better adult is at the top of my list of New Year's resolutions this year, starting with not being (aka looking) hungover at family brunch.
What are some of your New Year's resolutions? Leave your comments below.
Happy New Year's!
Credit:
Polyvore