What-to-Wear: Last Minute Holiday Party
Chances are that, by now, your holiday party planner is completely booked. You've strategically planned your social calendar and have even started picking out what dresses and shoes you're going to wear. Everything seems to be going right until you check your Facebook notifications and see the thing that every girl is dreading this season: the last minute party invitation. Cue Hitchcock soundtrack.
Nothing gives my closet a heart attack quite like a last minute party invite. As I racked my brain and closet to try and solve this week's "What to wear?" question without being an outfit repeater, I was nearly defeated. Then it dawned on me, literally. In a sea of blacks and greys, something sparkled from the corner of my closet. It was a sequined crop top that I wore to a disco-themed soirée a few parties ago, and also the solution to all of my problems.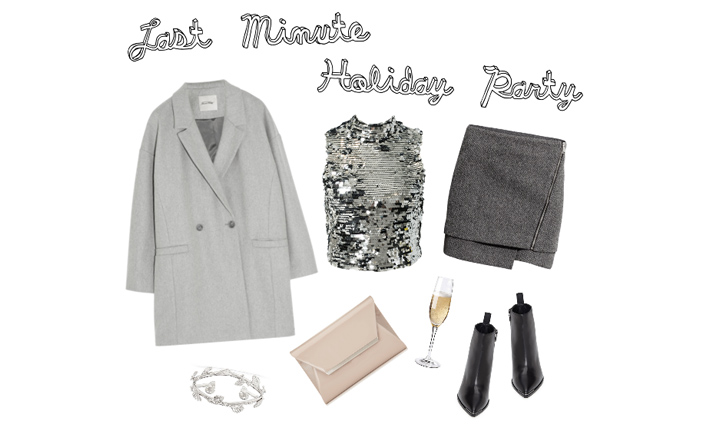 1. A Sequined Top
Normally I find sequined anything hard to wear and mildly atrocious, but for some reason I give anyone wearing sequins this time of the year a free pass...maybe I'm not a Grinch after all. Though last minute parties are often more on the casual side, I always prefer to be overdressed, especially if I'm not on time from digging through my closet all day. If I'm going to be late, than I might as well look good doing it. This sequin crop top is by Estradeur and can be purchased
here
.
2. An Asymmetric Skirt
An asymmetric skirt is like the less cheesy, more fun version of the classic (a.k.a boring) pencil skirt. This asymmetric mini not only has a cool hemline, but also features a cheeky zipper detail that runs up the side of the leg and hip. Wear this skirt to tone down the sequins while still keeping the look feeling young and up-to-date. Buy this H&M skirt
here
.
3. An Oversized Boyfriend Coat
Autumn was all about boyfriend jeans, and this winter we're borrowing from the boys again with an oversized boyfriend coat. The oversized fit is perfect for that casual but-still-put-together vibe that'll have you hashtagging #IWokeUpLikeThis and #Flawless. The fit also works well to balance out how fitted and structured the rest of this look is, especially crucial if you're like me and you head straight for the snack table at the party. This coat is by American Vintage, and is up for grabs
here
.
4. Pointy Ankle Boots
There's nothing groundbreaking or particularly holiday about pointy-toed ankle boots, other than the fact that they look good with just about any outfit and that this particular pair is on my holiday wishlist. Santa baby, are you listening? I'm a size 6.5. These Acne boots are available
here
.
5. Don't forget!
A neutral toned clutch and an arm cuff that compliments the color scheme are all you need to finish this look. The sequin shirt is a statement piece on its own, so no other embellishments are necessary. What's the best accessory for a last minute party? Champagne, champagne, and more champagne to celebrate getting an outfit together.
Panic no more, and look calm and collected in this last minute party look. Stay tuned for next week's What-to-Wear, where I dig in my closet so you don't have to.
Happy toasting!
Credits: POLYVORE