My Fashion-Forward Valentine's Day Blog Photo Shoot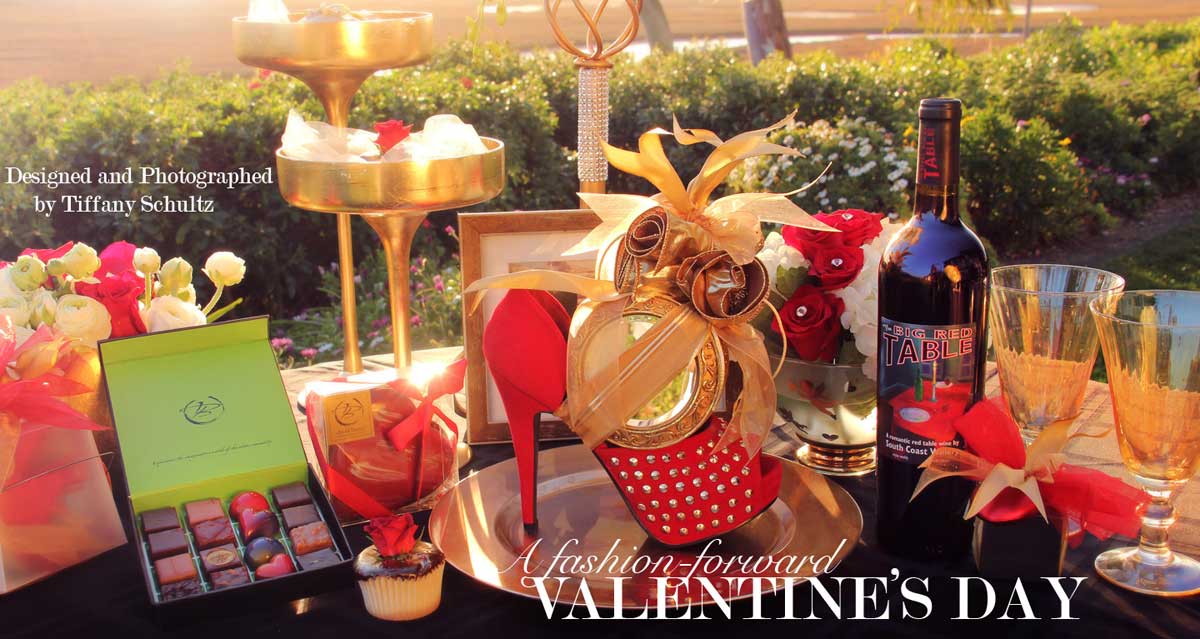 This year's red carpet award season boasted rich fashion and bright metallic's from Hollywood's hottest vixens. While the glitz and glamour of the Hollywood lights may be appealing when watching from the couch, I decided to put my thoughts into action when putting together my 2014 Fashion-Forward Valentine's Day.
It's 2014. Who needs the long wait and reservation deadline?
Lose the pressure and the formalities that come along with the holiday and kick in your creative intellect. Bring on the romance - leave the fuss. Here's how: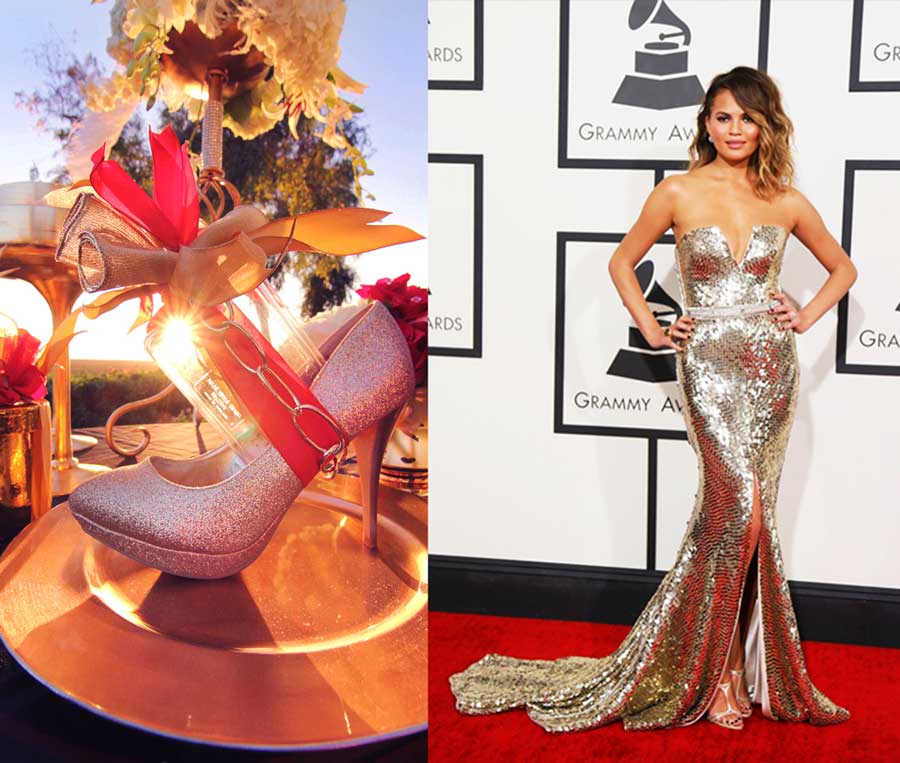 1) Make Your Gift a Memory
It's the thought that counts, and nothing illustrates thoughtfulness like creativity.
International gifting extraordinaire, Sean Cuadra of
The Gifted Horse
has more than a knack for exquisite wrapping. He makes gifting an experience. Each custom piece is created out of his passion for beauty and for people- which is instantly apparent when you meet him. "It's about the person and making them feel special," he beams. His eco-chic designs are made to be re-used, re-purposed and made with the highest quality materials (never using glue or tape and never "crafty"). He is a true creative that literally thinks outside the box, gathering the intricacies and stories of his clients and transforms them into something tangible and unique. My Valentine's Day gift request was no different. I wanted flirty, fashionable and intimate gift ideas- and he delivered.
Let's be honest, the stunning Christine Teigen's plunging Johanna Johnson dress was perfection at this year's Grammy Awards, and the inspiration behind my fashion-forward Valentine's Day shoot. Thus Sean used a sizzling gold stiletto as his gift base, wrapping a ribbon and gold chain around the box inside- all locked with a mini golden lock at the top. Your man can fill the box with handwritten love notes and hide the key, which makes the entire evening a romantic adventure. Now that's personal!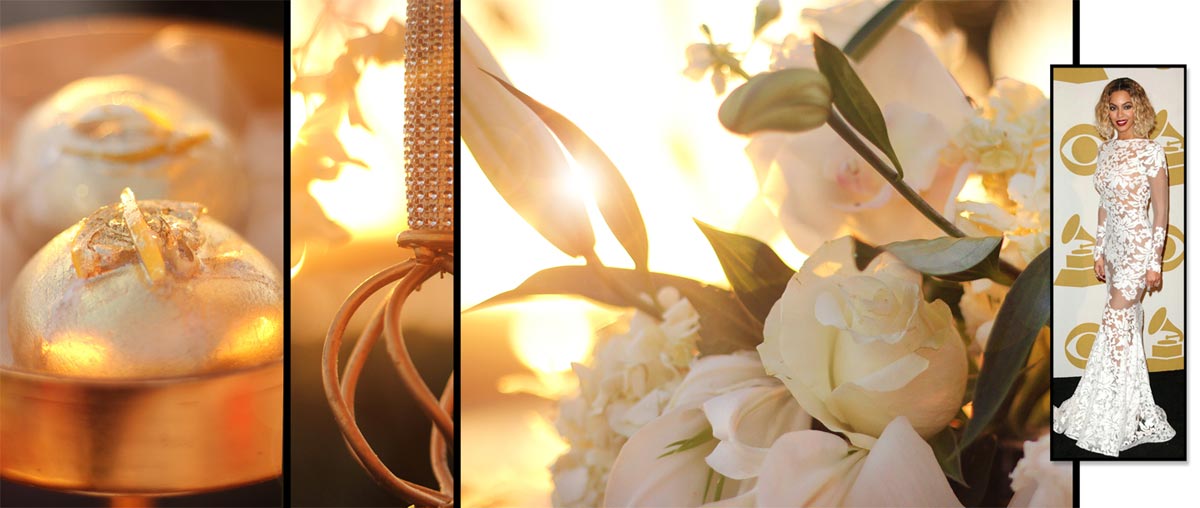 2) It's in the Details
In this case, floral designer Christine of Flowers Forever took on my high fashion challenge and created a towering 1920's inspired centerpiece of flowers based on Beyonce's white laced Michael Costello gown that graced this year's Grammy Awards. Cascading orchids, lillies, hydrangea and accents of white ostrich feathers overflowed the installation coupled with the rich 'Love Bomb' cupcake. Pucker up with lemon-loaded custard with gold fondant luster dust. Together, they serve as the perfect backdrop for a glam-filled evening! Flowers and Cupcakes custom designed by
Flowers Forever
in Carlsbad, California.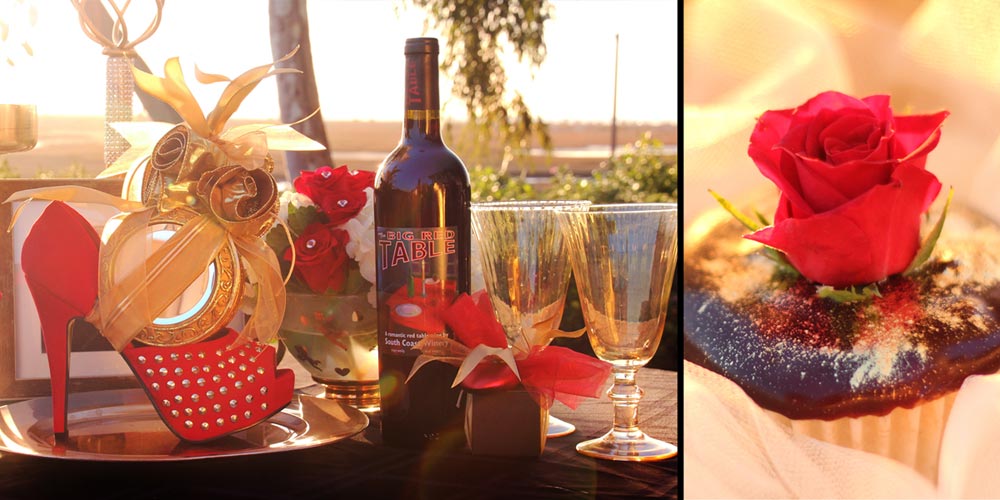 3) Create your very own Paradise
Chose a location special to you and your significant other to spend the evening. It doesn't have to be a formal dinner. I chose our lagoon-front porch at sunset for wine and desserts. Time with my husband is bliss- so finding the perfect florist, chocolatier and ultimate gift guru to help with bring my V-Day vision to life made everything effortless and gave me time with the one I love most.
Nestled among our favorite wine and another Gifted Horse delicacy are hydrangea and red roses studded with rhinestones. For dessert, Christine created a twist on a classic called the "East Coast Bling": a Boston cream cupcake dusted with luster dust and a romantic red rose in the center.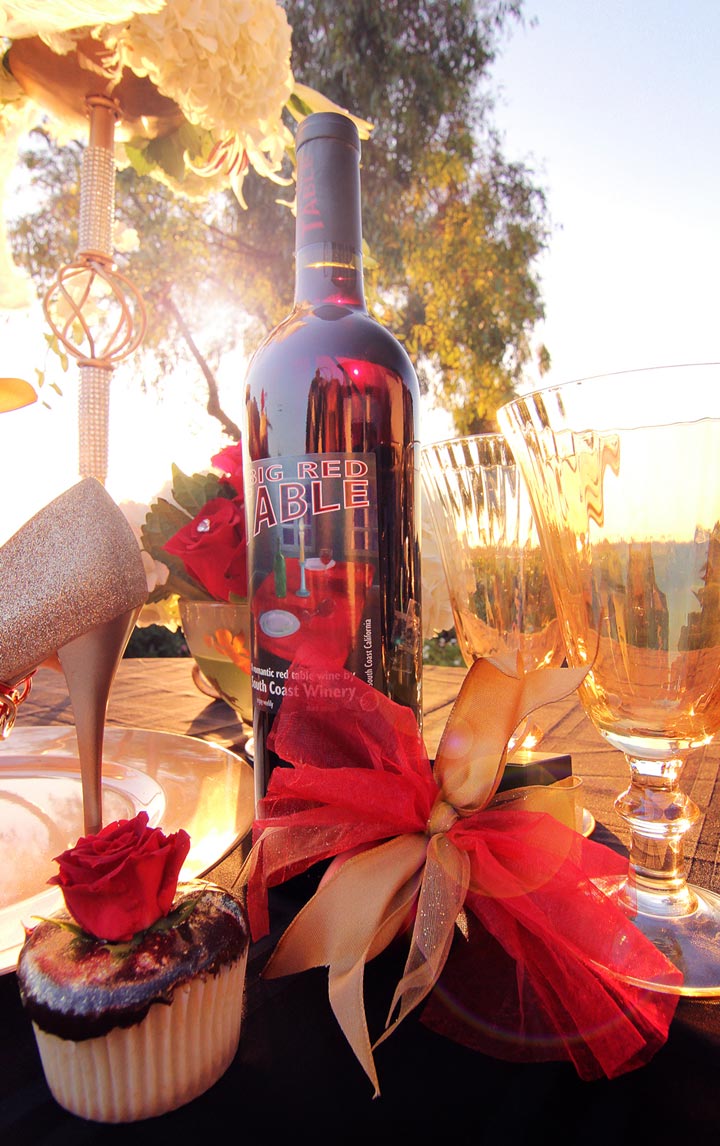 4) Shop Local & Make it Personal
California State Winery of The Year, South Coast Winery's velvety Big Red Table is the perfect complement to our chic valentines table-scape.
The deep red bottle incorporates a romantic love story on the back label that changes with each edition of the wine. Representative, Kasey Rosa adds, "If you are lucky, you may even find lipstick kiss marks on the cork!" The bold flavor and eye-catching label are big reasons I tried this "local love potion" when wine shopping for my Valentine's date night. "Steamy love stories and luscious fruit flavors" from my local Temecula vineyard adds a personal touch to the experience. And so does their Champaign Chocolate Massage for two (a gift certificate I cleverly slipped into the little black box next to the wine bottle).
Find Big Red Table wine and a variety of others by South Coast Winery Resort & Spa at
WineResort.com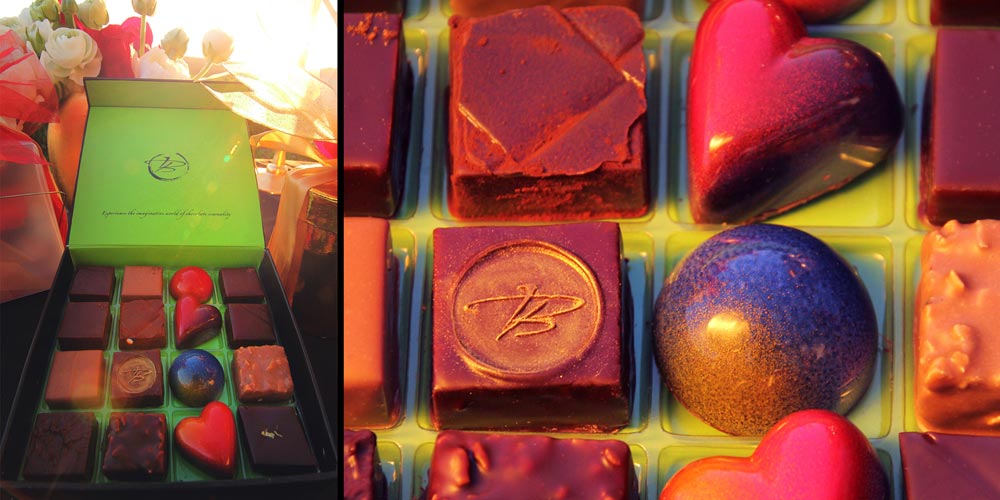 5) Be Bold
Love doesn't need to be spoken. It can be seen, felt, and best of all, tasted.
Artisan, craftsman and chocolatier David Bacco combines "the purest ingredients with haute cuisine, exotic travel and even your fondest childhood memories". And trust me, his creations set themselves apart the second you taste them. I fist sampled his chocolate at our local gourmet market and fell in love (a.k.a I've been addicted to the milk chocolate and smoked sea salt ever since!) His unique flavor combinations like sprightly passion fruit carmel, the tanginess of balsamic and even Caribbean spices raise the bar from which there is no return. No standard chocolates here- these rich morsels of pure, flavorful chocolate heaven will transport you and leave your taste buds begging for more while your heart melts. Check out his full array of handcrafted chocolate goodies at
bacco-chocolatier.com
.
Cheers,
Tiffany